HAPPY PLUGS

HAPPY PLUGS - What color are you today?
It started with a love story. I grew up in Sveg, a small town in the northern part of Sweden with a keen eye for design and fashion. I moved to Stockholm to be closer to the realm of design and chase my entrepreneurial dream of making a mark in the world of fashion.
I found a way to combine my life's passions fashion, design and music. And it was love that set it all off. Happy Plugs was born at the end of 2011 when I was looking for a pair of pink headphones for my girlfriend. I didn't have any luck, so I took the matter in my own hands and painted a pair of headphones myself. And she loved them!
I realised there was a gap in the market and there was room for fashion-forward and affordable headphones that went beyond functionality. From this belief, Happy Plugs was born.
Today Happy Plugs is available at 6.000 + retailers in over 70 countries worldwide. Last year we sold one Happy Plugs every 30 seconds. This year we will double that. It's a challenge. It was more forgiving making errors when we were smaller. As we grow we can tell how important it is that everything runs smoothly.
We work hard to ensure we are using the correct tools and workflow in the best way possible. We truly love and respect all people involved in building Happy Plugs as a global brand to recon with. Join us as we rock the world from good to badass!
​
Andreas Vural
Founder & CEO of Happy Plugs
---


​urban brands gmbh - Modering 9 - Haus m9 - Raum 088+086 - 22457 Hamburg
Jörg Müller 0173-2617940 & Nicole Meihöfer 0173 2618135
Von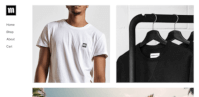 Erstellen Sie mithilfe anpassbarer Vorlagen Ihre eigene, einzigartige Webseite.